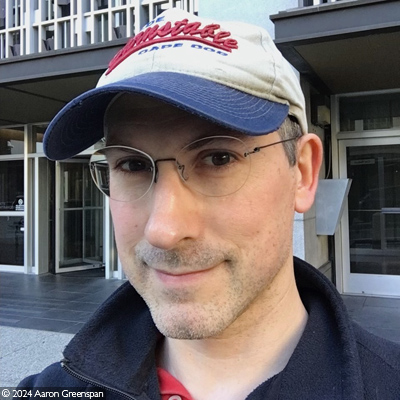 Hi there! I'm Aaron, and this is my web site.
What's your deal?
I grew up in Shaker Heights, Ohio, where I attended the Shaker Heights schools. Like teachers in many public school systems, teachers in Shaker conflated excessive homework with learning, and I quickly grew frustrated with the oppressive amount of work that I had to do. To escape the madness I incorporated Think Computer Corporation in April, 1998 as a high school freshman, and began charging $25.00 per hour to fix computers for individuals and businesses in the Cleveland area. Though it required precious time, Think served as a welcome distraction, and allowed me to think for myself while solving real problems for at least a few hours each day.
With the dot-com boom in full swing by 1999, just one year later, Think won first place in the Junior Achievement Young IT Entrepreneur of the Year Award. I invested the $5,000.00 prize in the company's stock market portfolio, which crashed not too long after. So, I raised my hourly rate.
By my senior year of high school I had tired of fixing the same problems with Microsoft Windows-based PCs, so I decided to start writing software. My uncle's company was having trouble bringing its order management system into the internet age, and so during the summer of 2001, without knowing much about programming or accounting, I set out with a few friends to build a new system in the library of University School, around the corner from my house.
In the fall of 2001, I matriculated at Harvard College, where I met wonderful friends and terrible teachers (with a few notable exceptions). The technology at Harvard was about as old as the school, so I set about creating a new university portal. Since graduating, I've been working on a variety of problems from mobile payments to business process automation (e.g. accounting and information management) to government transparency.
Can you help me with my idea?
I always try to help people with good ideas, but I'm unlikely to get excited about social networks. Right now, I'm not looking for new projects or business partners.
What's with the shield?
I designed a new logo for a student entreprenership group in college, and then was told that I wasn't allowed to use it in place of the old one, which I really didn't like. So I changed the H to an A and decided to make it my own. The shield symbolizes academia and the light bulb symbolizes business. (And the light bulb is shining, so I guess that means I have ideas?) Since I'm interested in both academic and business-y fields, it seems like a reasonable enough thing to put on a personal web site.
Also, now no one can tell me I can't use this thing I made. 'Cause I'm using it.
What's with the Hebrew?
I've always liked languages (especially Hebrew), and the phrase on this web site translates to a kind of personal ethos: societal longevity through truth and innovation.
Wow, that was really long!
VL; RM If you want to read something even longer I'd recommend this book, which goes into a bit more detail.
Thanks for visiting!
About | Writing | Music | Technology | Design
Copyright © 2001-2012 Aaron Greenspan. All Rights Reserved.